The Lodge at Emerald Waters is a hidden gem right in Western Kentucky. This 11,000 square foot lodge is nestled into the hillside overlooking an 80 acre sparkling, emerald lake with a private gated entry. Eight suites and bedrooms with seven bathrooms plus multiple entertaining areas provide plenty of space to host a variety of events.
The Lodge's main level was designed with entertainment in mind. The spacious entry and vaulted ceilings are complete with 7' x 7' chandelier made from authentic elk and deer antlers, plus a 35 foot wall of windows overlooking the gorgeous lake.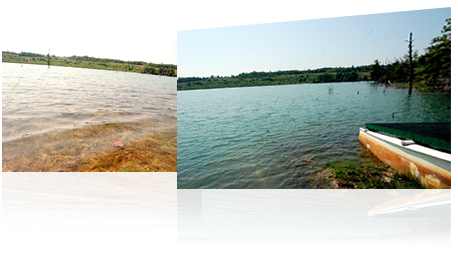 With multiple sitting areas, a cozy fireplace featuring a historic mantle piece dating back to the 1800's, and dining table for up to 16 people, this space is multipurpose. An open staircase then leads you to the upper level, featuring a more private feel with four beautiful bedroom suites and baths, a "Derby Lounge" sitting area overlooking the main lobby, and open Catwalk with outdoor views of nature scenery.
The Lodge also features a lower level. This is home to a sports bar with 4 Flat Screen TV's, a pool table, comfortable lounge area, four themed bedrooms, and a large covered deck. The outside also offers an expansive deck with a walkway extending to the romantic gazebo just near the waters edge- a perfect place to watch the sunset.
The Lodge at Emerald Waters also has State of the Art kitchen facilities with a commercial refrigerator, granite countertops, dual ovens, gas stove, and a beautiful copper sink. The overall decor has a rustic, yet elegant feel that everyone is sure to enjoy. No detail was forgotten when they installed a Wi-Fi connection and a Speaker System that can be heard throughout the facilities, including outdoors.
It is a vision of a few great friends who could see the potential for this beautiful location. Where relaxation is at its finest, you can enjoy simply taking in the scenery, fishing for big bass, hunting for trophy bucks, rocking on the back porch, or laughing with friends. Making unforgettable memories is what it's all about.
Contact us today to tour the facilities and schedule your event or relaxing getaway at The Lodge at Emerald Waters.